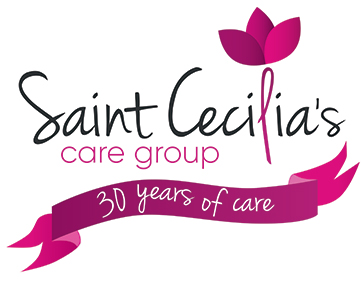 SAINT CECILIA'S OPPORTUNITIES

Saint Cecilia's is a care provider with a difference!
We are proud of our reputation as a committed and respected care provider and employer, passionate about making a difference to people's lives, often at a time when they need support the most. We feel privileged to be in a position to be entrusted with the responsibility for their care and wellbeing; a privilege we never take for granted.
We are ambitious for the future; Saint Cecilia's is continually expanding and looking to diversify the type of care we provide.
Celebrating over 30 years of providing care and as an award-winning organisation we are recognised locally and nationally to be at the forefront of the sector. We are always looking at technological advances and innovative ways to improve our care and are ahead of the curve against our competitors. Through our talented teams we have a passion that shines through in everything we do.
A family-run business, Saint Cecilia's has a current portfolio of five care homes as well as a day care centre.
However, the directors have a strong ambition to grow this further, so there has never been a better time to join us!
Across the group we offer both nursing and residential care, delivered by skilled and knowledgeable staff, who are the heartbeat of our organisation. Our specialist day care centre provides a warm, safe, and welcoming environment for service users to enjoy activities and meet with friends.
At the heart of the coastal Scarborough community; Saint Cecilia's hosts and attends several care sector events to celebrate the importance and achievements of the sector. We are committed to supporting the wider community in our work, for example by sponsoring local sports teams.
Renowned for offering professional, compassionate care, Saint Cecilia's is also at the forefront of campaigning to improve the care sector across the country.
We look forward to appointing people who share our passion for care and ambition for growth. It is an exciting time to join us in these pivotal roles with opportunity to grow your career whilst delivering our ambition.
You can enhance your life with a new role, whilst making a difference to others.
If you are as excited and ambitious for the future as we are and this opportunity ignites your passion, we want to hear from you.
Mike Padgham
Managing Director
Contact us to find out more: