South Yorkshire Pensions Authority – Assistant Director - Pensions
£79,596 to £90,692 (23/24 pay award pending) plus benefits & relocation support
---
Welcome, and thank you for your interest in becoming SYPA's next Assistant Director – Pensions.
We are proud of the track record that South Yorkshire Pensions Authority has achieved over a long period. As we progress, we are seeking to build on this, whilst preserving the long-term stability of our pension fund. That is where you come in……
I am looking forward to recruiting an Assistant Director of Pensions who will further develop our thinking and help us realise our ambitions.
Like all Local Government Pension funds, we have a big agenda for the services for which you will be responsible over the next few years, including implementing the McCloud remedy, the Pensions Dashboard, and the need to make significant improvements to the way in which we use the technology we have available to us to deliver our services. Your role will be to ensure all these projects are delivered in an effectively managed and controlled manner and that we manage to keep business as usual activity on track at the same time. This will require all your skills as a juggler of resources and priorities.
This is a vital role leading the Authority's customer facing operations dealing with both scheme members and employers, and while others might call this Pensions Administration, we see these services as much more than just a processing function, crucial though that aspect of the work is. The emphasis of this role is on leadership and the development and implementation of strategy for the services within your portfolio, making the best use of the talented individuals in your team and helping them achieve their full potential.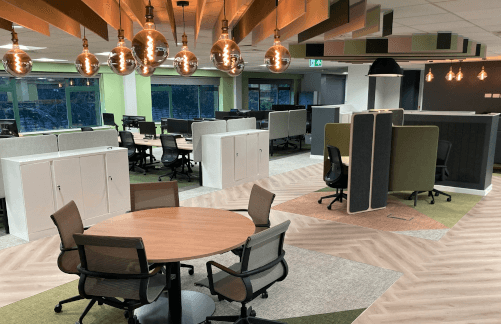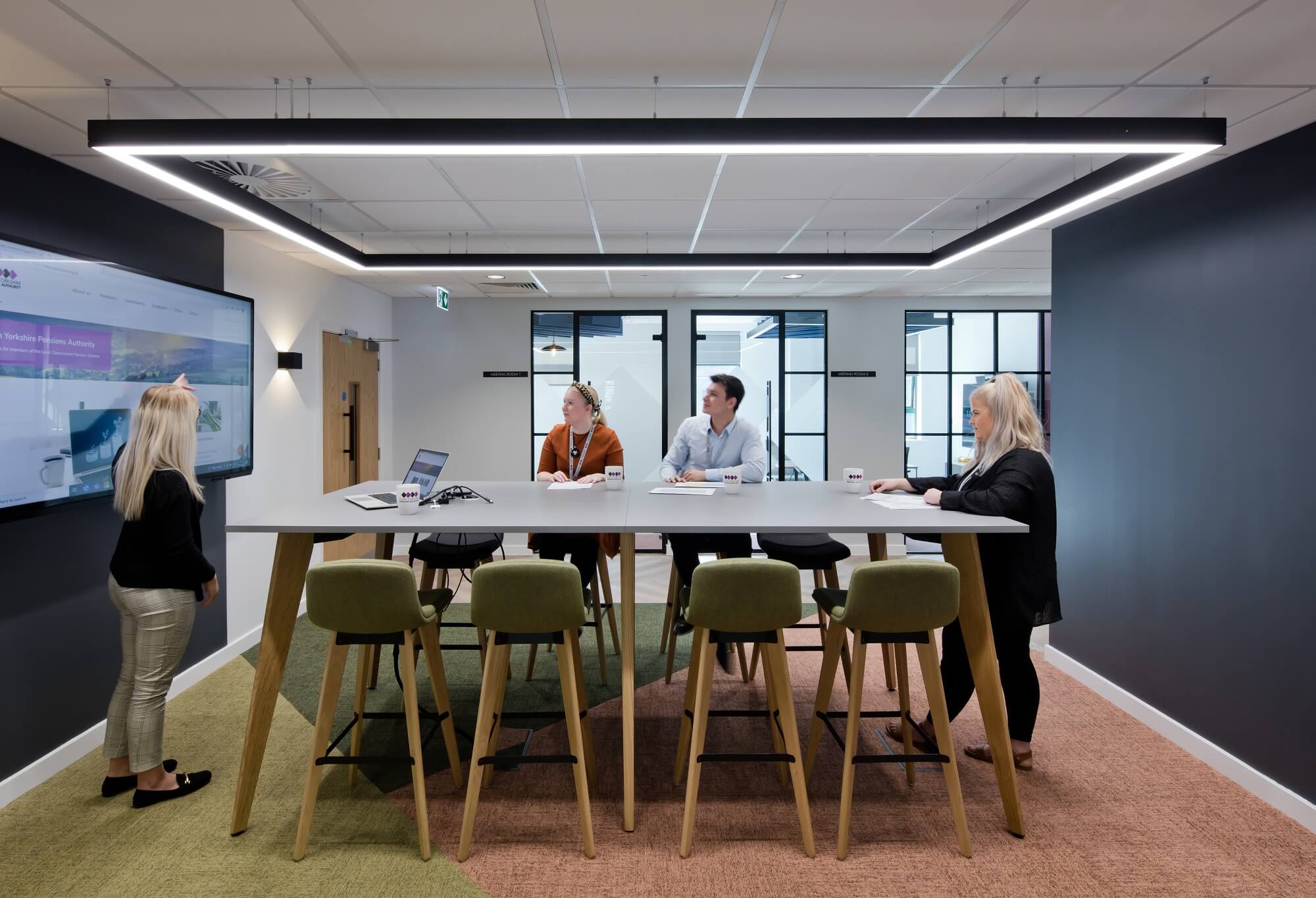 While the agenda facing us is testing, we have several key strengths, including an incredibly supportive Pensions Authority who have consistently been prepared to invest in developing our organisation and a talented workforce who rise to every challenge put in front of them.
I am very proud that in December 2022 we have won the LAPF Investment Awards LGPS Fund of the Year (Assets over £2.5 billion).
We also won the first ever Impact Investing Adopters Award (November 2021) from Pensions for Purpose and we were also re accredited by Customer Service Excellence in May 2022, having met this standard for over 20 years.
It really is an exciting time to be joining us.
We pride ourselves on being an employer of choice, offering a range of training and development opportunities and career progression allowing you to manage your own development journey and empowering you to control your career. Perhaps most importantly you will be welcomed by talented teams.
We positively encourage productive, flexible working and we provide you with the technology you need to work from our Barnsley office and at home (we also offer a home-working allowance to all staff who work part of the week at home).
If you are interested in joining our team and are inspired to help lead the next phase of our journey, we look forward to your application. In the meantime, following an initial conversation with our recruitment partners at The Resourcing Solution I would be delighted to discuss this opportunity with those who might wish to learn a little more.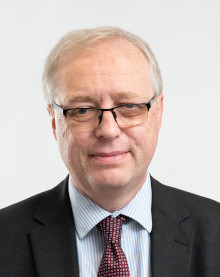 George Graham, Director of the South Yorkshire Pensions Authority.
Job title: Assistant Director – Pensions
Location: Barnsley / Hybrid Working
Contract: Full-time / Permanent
Salary: £79,596 to £90,692 (23/24 pay award pending) plus benefits & relocation support
The Assistant Director – Pensions is one of three Senior Management roles supporting SYPA's Director in giving leadership and direction to the Authority's operations. The diagram below shows how this role fits into the overall structure of the organisation and illustrates the difference between SYPA as an organisation, and a conventional LGPS administering authority where many support services are provided by the host council.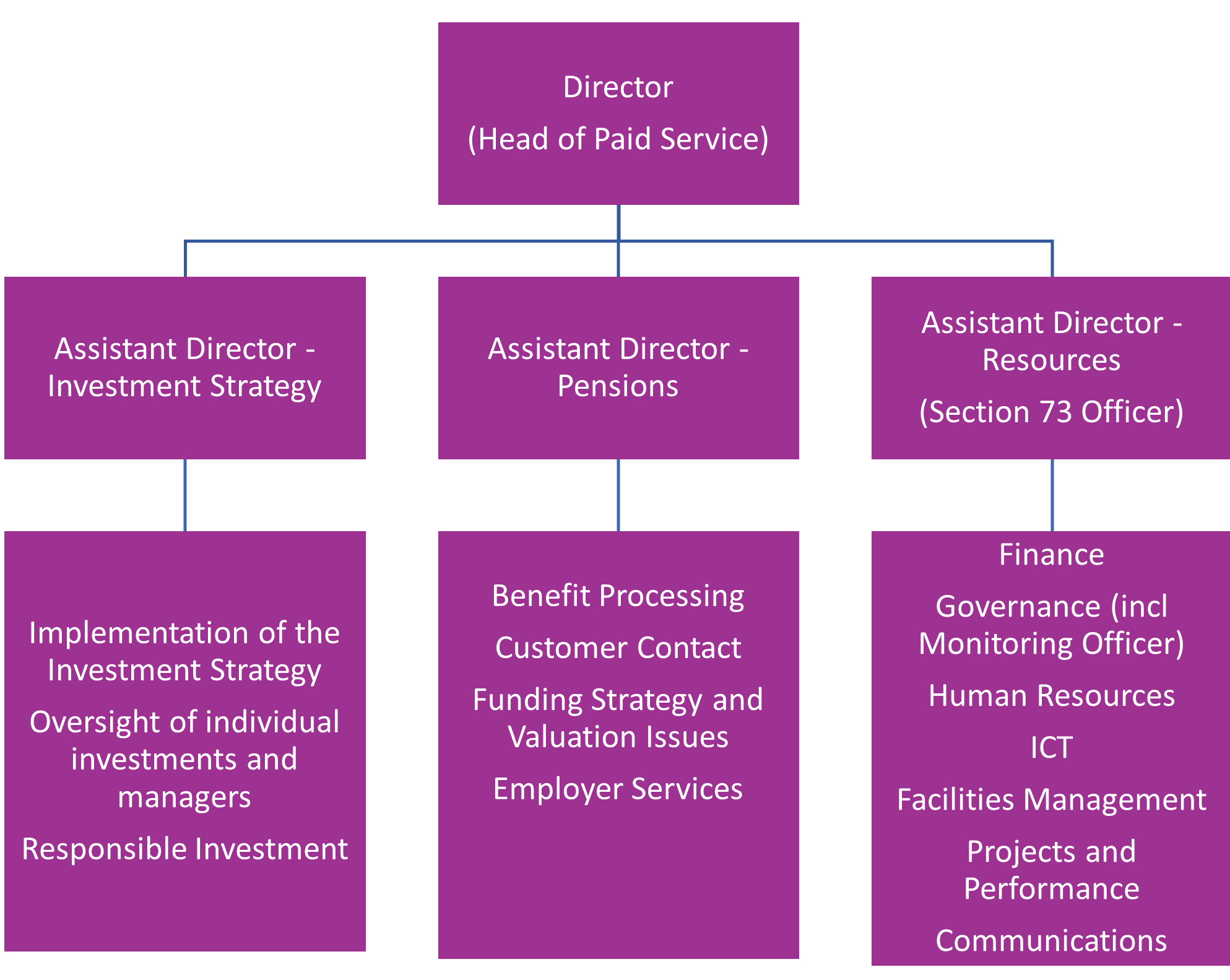 More detail about the structure of the organisation is available on our website here.
The portfolio of functions for which the role is responsible represent the Authority's key customer facing functions and include the largest portion of the Authority's staff with a current headcount of around 63 Full Time Equivalents.
Following a review of organisational resilience last year which addressed management capacity across the organisation a capacity planning exercise is currently underway which will address any identified shortfalls in "production" capacity in the Pensions Service.
The current high-level structure of the Pensions Service is shown below. The responsibilities of management roles are currently being reviewed to assist in addressing some capacity challenges.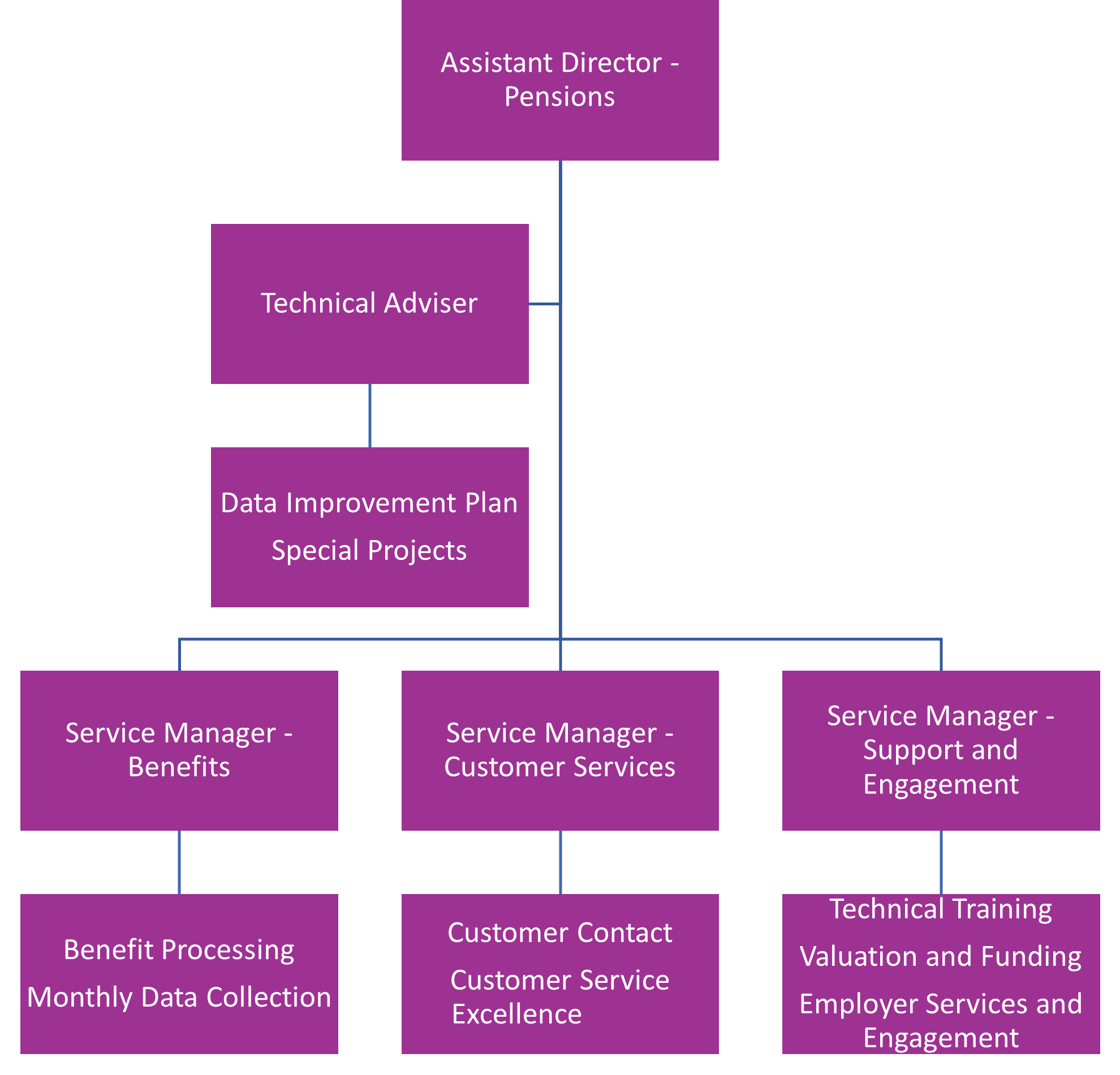 The agenda for the Pensions Service, as with its peers across the Local Government Pension Scheme is dominated by a small number of major projects such as the McCloud remedy. However, we are ambitious to ensure that we do not just address these major industry wide challenges but also begin to roll out a series of smaller scale, but nonetheless significant, improvements in the way in which we deliver services to our scheme members such as the introduction of an on-line retirement process for all members. More details of the areas we are currently planning to improve over the next three years are set out in our Corporate Strategy here.
Finally, while a degree (or equivalent) is desirable, it is not essential if you can lead with credibility and demonstrate a compelling background working within a Local Government Pension Fund.
Come and join us!
About the South Yorkshire Pensions Authority
We are a growing public sector organisation with a team of around 100 staff who run the workplace pension scheme, managing a Fund of over £10 billion on behalf of nearly 600 employing organisations, including Local Authorities and other public / not-for-profit sector bodies.
South Yorkshire Pensions Authority is responsible for administering the Local Government Pension Scheme in South Yorkshire. The Authority was created in 1988 as part of the arrangements put in place following the abolition of South Yorkshire Metropolitan County Council. The Authority itself is made up of 12 Councillors drawn from the 4 districts in the County.
The Pensions Authority's workforce is headed by the Director and is organised around three streams of activity, each led by an Assistant Director, reflecting the focus of its work in relation to:
Scheme members
Investment of the Pension Fund's assets, and
The running of the organisation
The diagram below shows how the different elements of our governance arrangements fit together and how they relate to the various elements of the Border to Coast Pensions Partnership in relation to investment matters.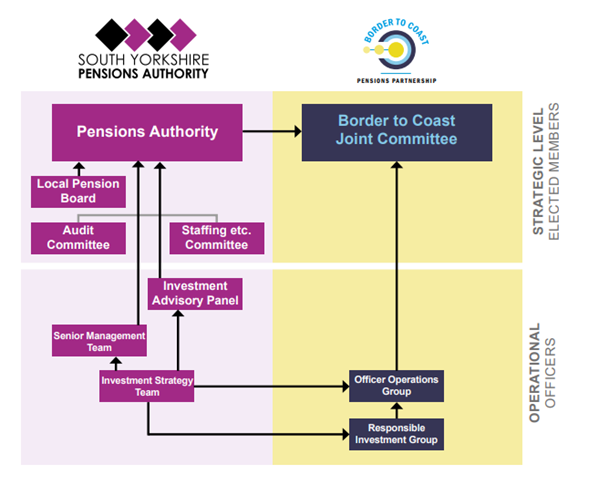 The beginning of last year saw the country still in the grips on the ongoing COVID-19 pandemic, with staff still working from home but the vaccine programme beginning to get things moving once again. The end of the year saw war breakout in Europe after almost 80 years.
These events create significant challenges for the Authority in terms of its operations and from the impact of volatility in the financial markets on our investments.  Despite this, we have had a range of successes and delivered a significant amount of work over the last 12 months including:
Processing 61,000 individual transactions with scheme members within the administration service.
In October 2021 £574m in assets transferred to the new Border to Coast Multi-Asset Credit Fund and we awarded a contract for actuarial services to a new provider, Hymans Robertson, following a competitive procurement exercise.
From September 2021 to January 2022, we invested over £35m (as part of a £80m allocation) in local development loans to provide regeneration to the Eyewitness and Ceylon works sites in Sheffield for housing and industrial redevelopment at the former B&Q site at Darnall, Sheffield, Gateway 36 in Barnsley and the Advanced Manufacturing Park in Rotherham.
In November 2021 we were awarded the Impact Investing Adopters Award from Pensions for Purpose for our adoption of an impact focussed approach to our investments and March 2022 saw us publish our first impact report which sets out the impact of our investments on people and planet for our stakeholders.
February 2022 saw the official opening of our new Oakwell House Office in Barnsley, providing a modern working environment for our staff and designed to support the move to a hybrid working arrangement.
It also saw £191m of assets transfer to the new Border to Coast Listed Alternatives Fund, meaning that just over 70% of the Fund is now managed by the Pool.
This is just a small sample of some of our achievements over the last 12 months.
We operate a flexible working policy which allows for a hybrid of home and office working, with a superb, newly refurbished office tailor-made for hybrid working, offering free staff parking. We are committed to providing a healthy work-life balance and so you will benefit from between 27- and 35-days' annual leave depending on length of service together with access to a flexitime scheme, as well as the opportunity to join the generous Local Government salary related pension scheme. There are plenty of learning and development opportunities too, including access for all our staff to LinkedIn Learning. A relocation package is also available for eligible applicants, details of which can be found above.
Corporate Objectives
SYPA operates to deliver a number of corporate objectives the achievement of which will allow us to deliver on our mission which is:

Making sure we deliver against the objectives below will allow us to achieve this: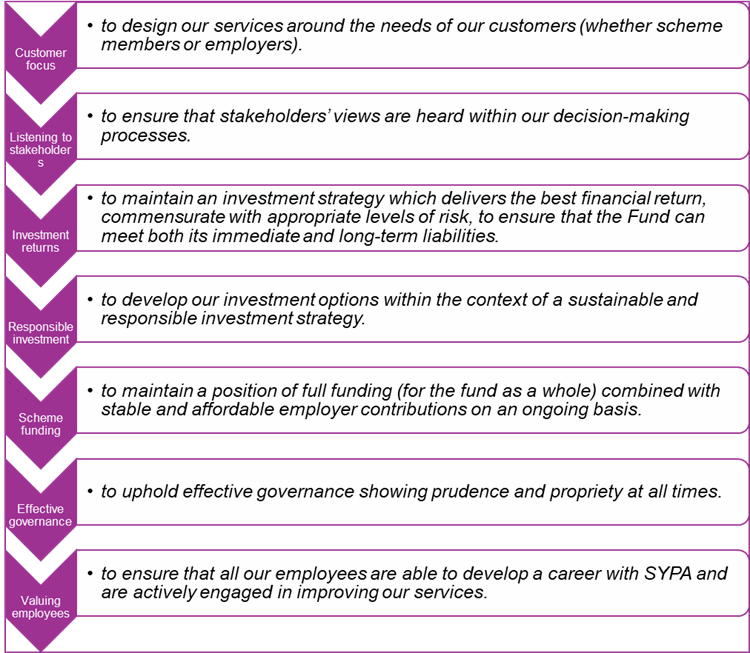 Values and Behaviours
How we achieve our objectives is as important to us as what we achieve, and we operate with a framework of values and behaviours which signify the type of organisation we want to be:
| | |
| --- | --- |
| Values | Behaviours |
| Honest and Accountable | Telling it like it is, and taking responsibility for our actions even when we have made a mistake |
| Progressive | Welcoming of change, while taking sensible risks and learning from our mistakes and from others |
| Professional | Being highly skilled and competent and managerially applying rationality to decision making processes |
| Empowering | Providing the freedom for individuals to identify and implement solutions to problems |
In addition, if we are to live those values then our managers must demonstrate specific management behaviours as shown below:
Management Behaviours
Demonstrated by:
We model positive behaviours to each other and to all staff

We regularly offer encouragement and praise for positive behaviours
We challenge inappropriate and unacceptable behaviour
We give and receive authentic feedback
We hold staff to account for their performance

We take responsibility for improvement - within a clear framework

We get on with making improvements and changes rather than wait for permission (within a clear advice frame that sets out what we can get on with and what we can't).
We trust people to do their job, we don't micromanage.
We give a heads up when we plan something new, we speak up early when there is a problem or when things aren't going well.
When something doesn't go well, we look for what we can learn and what we can do differently next time.

We all get behind a common goal

We have a clear vision that sets out what our goals are and clear priorities which set out what our most important changes are.
We make the time to understand what we need to do to contribute to that vision.
We work together across the organisation and contribute to the organisation as a whole.
We challenge and question rumours and use discretion in sharing what gets discussed amongst managers.

We involve and engage people in decisions that will affect them

We keep people in the loop about things that will affect them.
We seek and value the opinion of the people we manage and of other teams.
We take the time to set out plans, then listen to the concerns and recommendations of those involved as to how we can strengthen those plans.
We communicate regularly and clearly to all staff.
Contact us and apply now
For an informal confidential discussion about these opportunities, please contact Leanne Auton on 07815 028548 / Leanne.Auton@northyorks.gov.uk  from our recruitment partners - The Resourcing Solution.
Key dates
Closing date: Midnight Sunday 18 June 2023
Shortlisting date: Thursday 22 June 2023
Interview Dates:
Technical Interview: Monday 10 or Tuesday 11 July (in-person Oakwell House in Barnsley or virtually via MSTeams)
Stakeholder Interviews: Monday 24 July (Oakwell House in Barnsley)
Final Member Panel Interview: Tuesday 25 July (Oakwell House in Barnsley)
Apply
To apply please send your CV including a supporting statement in one Microsoft Word document to Leanne Auton at Leanne.Auton@northyorks.gov.uk
It is important that your CV includes: your full contact details (telephone, email, address), full employment history (name of employer, job titles, dates of employment and salary), full education history (qualification, grade, dates and place of study), explanation of any gaps in employment and the contact details of at least two referees including your current / most recent employer indicating whether you consent to us contacting each referee prior to interview. Please also provide details of your current salary and notice period.
Your supporting statement should outline your motivation for applying and how you meet the criteria for the role.
South Yorkshire Pensions Authority is an equal opportunity employer and values diversity.
We are committed to equality of opportunity for all staff. We welcome applications from individuals regardless of age, any disability, sex, gender reassignment, sexual orientation, pregnancy and maternity, race, religion or belief.
We will not accept applications from agencies.
Your Privacy
South Yorkshire Pensions Authority is committed to protecting your privacy when you use our services. Please refer to our Privacy Statement which explains how we use information about you and how we protect your privacy.