NY Highways Opportunities


Welcome to NY Highways.
NY Highways is committed to making a meaningful, positive impact on our communities.
It is our intention to provide added value by delivering desirable outcomes for the Council: working with more North Yorkshire SMEs; contributing to North Yorkshire's economic growth by supporting people back into work; and enhancing skills in the workforce. NY Highways values its people above all else and will invest in them to ensure that all our people are encouraged to maximise their potential, contribute to our future success as a business and add value to our communities in a socially responsible and sustainable way.
NY Highways is focussed on creating and developing a workforce that is energetic, dynamic and diverse. With the benefit of a very stable working platform, we are poised for genuine and sustainable growth, so we are keen to hear from individuals who share this enthusiasm and want to be part of NY Highways success. We want to build a team that is representative of the county as a whole; Yorkshire is a region, which embraces cultural diversity, and where success is encouraged irrespective of gender, race or background. So this is where you come in…
If you would like to explore the opportunity to work with us and help create a welcoming and thriving workplace, please get in touch.
You can contact our Resourcing Partner Ashley Benford on 07814 932 389 or email Ashley.Benford@northyorks.gov.uk
Jamie Crumlish,
Managing Director, NY Highways Ltd
About NY Highways
NY Highways is a newly formed highways maintenance company that has been established to provide highway services to the council. Previously run through the private sector, these services are now housed (from June 2021) within a 'Teckal' company, owned by the council. It forms one of a number of companies owned by the council which make up the Brierley Group.
North Yorkshire Highways is ambitious about being different, read on to learn more about our vision...
It is our aim to become an industry leader within the highways sector. To be known for being modern and innovative in our approach to delivering highways services - whilst supporting, developing and rewarding our workforce in a way they truly value, because it offers them a balanced quality of life the chance for career progression and fair reward for the work they do.
NY Highways takes the best from public sector values and commercial organisation. Our employees benefit from progressive ways of working and generous terms and conditions.
The NY Highways package of pay terms and conditions for newly recruited employees is founded on principles that reflect the new company's vision and ambition:
Safety

- In everything we do we always put the safety of ourselves and the community first.

Customer

- Putting our customers at the heart of everything we do.

Innovation

- Adopting, adapting, and improving the latest innovations into working practices.

Progression

- Continually push forward at the right pace and in the right direction.

Agility

- Moving quickly within market and contract conditions.

Integrity

- Always acting with fairness and integrity.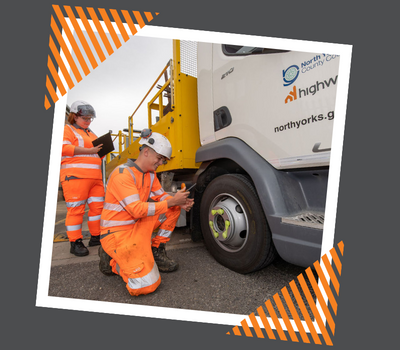 Career progression
Our vision is 'GROWING ITS OWN'
We are focussed on internal development, with clearly defined career pathways for people to learn new skills and progress to skilled, professional, supervisory and management roles. As our employees progress through the skill levels, they will move through pay bands aligned to a clearly defined pay structure.
We invest in training too, starting with an expanded apprenticeship scheme, with competitive pay for new apprentices above the national apprentice wage.
You can become our future talent!


The Brierley Group
The Council is part of a forward thinking public sector organisation - award winning, commercially focussed and with multiple successful commercial trading businesses already. This established portfolio of trading businesses is known as the Brierley Group, of which NY Highways is the latest addition.
These Council owned companies operate in a commercial context and are required to achieve sustainable growth and profits, specifically to enable The Council to continue to reinvest so as to better meet customer needs and invest in the residents and communities of North Yorkshire.
Teckal status
This status means that as the shareholder, the council can award contracts directly without procurement, so the company is in an exclusively strong position to deliver high quality highways services and achieve long term ethical and stable growth. At the same time, the intention is to continue to grow the business by identifying new commercial opportunities, with the ambition to deliver services to other public sector bodies as well as to private sector clients over the longer term.


NY Highways - facts and figures
Service Delivery: Highways services that deliver planned and emergency highways and streetlight repairs, winter maintenance regimes, road and infrastructure construction, owned and client fleet maintenance.
Delivery of services is both direct and through sub-contracting arrangements.