 Director, Children's Safeguarding - City of York Council



Job description
Reporting to: Corporate Director of Children and Education
Salary: circa £101k plus relocation support
Location: West Offices, York (hybrid working also available)
Purpose of the job
To direct and deliver the council's statutory children's social care that protect vulnerable children by preventing or reducing care need or where necessary providing services which allow them to thrive in care.
Structure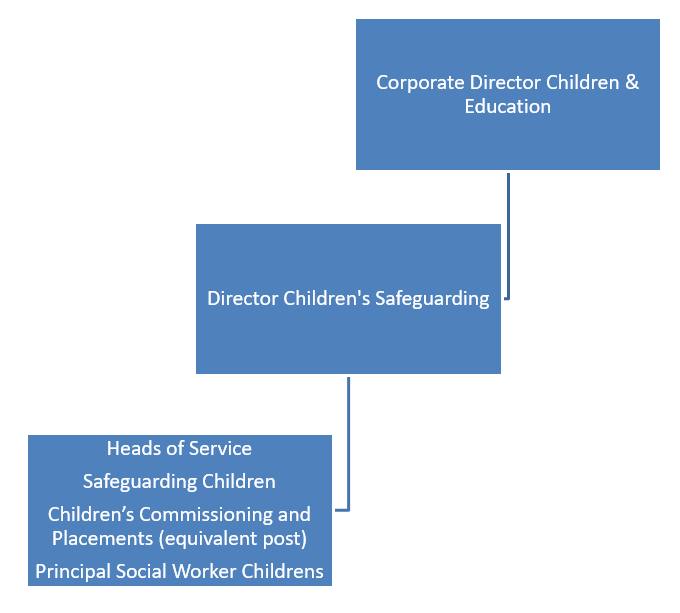 Principal accountabilities
support the Corporate Director in the strategic management and transformation of children's services to develop solutions to new and emerging issues, develop corporate working and build integrated service delivery
to be the lead officer responsible for safeguarding children and ensure services are compliant, safe and inspection ready in line with statutory inspection frameworks
to be the Deputy DCS and Corporate Parent
provide credible and effective professional leadership for the service with strong focus on robust evidence based performance measures to achieve successful outcomes for children and young people
to provide effective social work leadership across Children's Services, to achieve and maintain high standards of practice, champion and lead a strengths-based social work practice culture and ensure a highly motivated, committed and stable workforce
provide Early Help Services to vulnerable children and young people
ensure strong quality assurance frameworks and practice are in place which effectively monitors the quality of systems and delivery services and provide the statutory LADO role for the City of York
lead the Children's Partnership Board and groups at a local and national level to ensure the best possible outcomes for children and young people across the City
provide referral and assessment services and lead on the provision of placements and associated commissioning for children's social care and children's residential services
deliver fostering and adoption services to help achieving permanence in the care of looked after children including leaving care service. To be the Council's responsible officer for the Regional Adoption Agency which is hosted by City of York Council. Oversee the agencies effective discharge of adoption services across the sub-region
to divert and reduce offending behaviour of young people through the provision of a Youth Justice Service for them and their families
provide specialist disability services for children, young people and their families
develop effective working relationships with members and keep them properly advised and informed to support effective make decisions necessary to development of services deliver projects effectively and cost effectively on behalf of the Council
represent the organisation across the Yorkshire region and nationally, where applicable
Other
this role is part of the emergency panning rota and the job holder is on call for out of hours emergencies
this role is an Information Asset Owner and must carry out the responsibilities of an Owner as required and set out in the council's 'Information Governance / Data Protection Roles and Responsibilities Rules'
Person specification
Qualifications
educated to degree level preferably in a relevant discipline or equivalent experience (essential)
management qualification (desirable)
social care qualification (essential)
Essential knowledge and skills
extensive knowledge and understanding of children's social care, legislative frameworks and key practice developments
knowledge of local government, funding mechanisms and political context and current issues
ability to set clear direction, motivate and influence teams to work coherently to achieve service improvement and outstanding results for children and young people
high level of interpersonal skill in order to build effective and collaborative working with a range of key partners and Council Members
strong problem solving and analytical skills to analyse information and trends, draw conclusions and prioritise decisions to manage risks
ability and the personal resilience to operate in a highly sensitive and political environment and where there is intense scrutiny of performance
Essential experience
significant senior leadership experience in children's' social care working in a political, complex, multi-functional organisation
experience of developing and delivering strategic solutions to meet statutory requirements, service standards and emerging priorities
successful leadership and motivation of people, management of large complex budgets with the ability to identify efficiencies and value for money at a corporate and service level to deliver service objectives across large and complex multi-disciplinary delivery teams
experience of leading significant service improvement through, capacity building, workforce modernisation and organisational reform that delivers improved outcomes within more affordable models of service delivery
experience of operating within, and managing, an area of significant risk, exercising considerable judgement and identifying and mitigating corporate and project risks
Contact us and apply now
For an informal confidential discussion about this opportunity, please contact Penny Keatings at Penny.Keatings@northyorks.gov.uk or on 07811 411462 from our recruitment partners - The Resourcing Solution
Apply
To apply please send your CV including a personal statement in one Microsoft Word document to Penny.Keatings@northyorks.gov.uk as soon as possible.
It is important that your CV includes: your full contact details (telephone, email, address), full employment history (name of employer, job titles, dates of employment and salary), full education history (qualification, grade, dates and place of study), explanation of any gaps in employment and the contact details of at least two referees including your current / most recent employer indicating whether you consent to us contacting each referee prior to interview. Please also include details of your current salary.
Your personal statement should outline your motivation for applying and how you meet the criteria for the role.
We will not accept applications from agencies.
This is a politically restricted post as defined by the Local Government and Housing Act 1989.
Key dates
Corporate Director, Children & Education
Closing date: midnight on Sunday 6 March
Interview: Assessment Event 28 March and Final Interview 1 April
Note: We plan to appoint the Corporate Director Children & Education first, to enable the incumbent to join the recruitment exercise for the Director, Children's Safeguarding on the dates below. It would be helpful if candidates applying could consider being available to take part in these interviews.
Director, Children's Safeguarding
Closing date: midnight on Sunday 6 March
Interview: Assessment Event 11 April and Final Interview 13 April
Your privacy
City of York Council is committed to protecting your privacy when you use our services. Please refer to our Privacy Statement which explains how we use information about you and how we protect your privacy.