Welcome
What is the Independent Care Group (ICG)?
ICG is the recognised representative body for independent care providers (private and voluntary) in York and North Yorkshire. We work on behalf of care providers for all client groups including care homes, domiciliary care agencies, supported living and extra care housing providers, and day care centres in the private and voluntary parts of the independent sector.

ICG is committed to helping care providers to give the best possible service to the vulnerable people they care for – working in partnership with others to make this a reality.
On behalf of care providers, we work with Department of Health and Social Care (DHSC), North Yorkshire County Council (NYCC), City of York Council (CYC), the Clinical Commissioning Groups (CCGs) in North Yorkshire & York, and the Care Quality Commission (CQC).
We act as a conduit passing on the views and concerns of providers and the requirements of commissioners in an each-way process. We try to achieve the best possible solution for the independent sector on all issues including fee rates, contract terms, quality and safety, and assistance through training. We make sure that care providers have input into quality standards and assessments which are clear and achievable. We represent providers on the Health & Wellbeing Boards and Safeguarding Boards and we press for clarity and transparency of processes.
As chair of the Partnership Board (Independent Sector) for North Yorkshire & York and members of the Market Development Board, we work with all parties to try to maintain the stability of the market while at the same time encouraging innovation and service development in line with personalisation. We are active in putting forward the case for assistance to the care sector through economic development funds to help with business change and are an equal partner in the Actual Cost of Care exercise and negotiations.
Most importantly we aim to make sure that our members are given all the information they need to keep up to date and provide a high-quality service.

Chief Executive, Independent Care Group
Full time, Permanent, Salary £50-60k dependent upon experience plus a comprehensive benefits package including a performance-based bonus.
Inspire, Shape, Influence
The role of Chief Executive for the Independent Care Group (ICG) is a career enhancing opportunity. This is an outstanding opportunity to join a successful and highly respected organisation and lead & develop its income generation as we celebrate over 20 years of serving the local community.  We provide a platform to make a real difference to the care sector in North Yorkshire, encouraging innovation and service development in line with personalisation.
The Independent Care Group (ICG) represents independent care providers in York and North Yorkshire and has ambitious plan for growth and development both inside and outside of the area. As our ambassador, you will enhance our effectiveness, raise our profile, and foster stronger working relationships with our partners in the public, private and voluntary sectors.
The post holder will deliver the priorities of which include, encouraging best practise in the delivery of care, helping our members, generating income and funding with the customer at the heart of everything whilst uniting services and partners to have a shared and ambitious vision. We are specifically looking for someone with outstanding strategic and commercial qualities and with the business acumen to continue to deliver and improve our excellent service.
To succeed you will have a proven track record of significant achievement at a strategic and corporate level, have experience of generating additional income to recruit team members, in addition to having an exceptional level of personal resilience and political awareness that will be utilised managing effective partnerships across diverse sectors.
Responsible for initiating and delivering an ambitious business plan, you will have the energy and drive to increase income for the Group through negotiations with our partners and by recruiting new members. We are looking for an exceptional person with the ability to think creatively and bring new and ambitious ways of working to add value, constructively challenge the sector and the board in addition to bringing a breath of fresh air to both us and our partners.
We are flexible around where this position is based and the working hours or days that make up the full-time position so this is the perfect role to fit around a busy lifestyle, however, it is essential that you can drive and have use of a vehicle due to the requirement for frequent meetings across the county. Depending upon your success in the role there is scope for the salary to reflect this moving forward.
If you are up for this challenge, and want to make a difference, we look forward to receiving your application.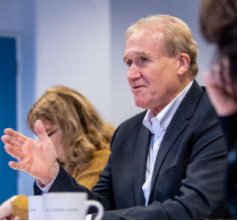 Mike Padgham
ICG Chair
For an informal discussion about this opportunity, we encourage you to contact Mike Padgham, ICG Chair, on 07971 111062. Follow us on Twitter with our Chair @Mike_Padgham Website: www.independentcaregroup.co.uk
For information regarding the recruitment process please contact Jessica Marshall, Resourcing Solutions Business Partner on 07967 785049 or email jessica.marshall1@northyorks.gov.uk
Please note the closing date for this application is midnight on 5th September and interviews will be held on 16th September (1st stage virtual interview) - successful candidates will then be invited to attend (in person) the 2nd stage interview on 17th September.
Apply Now: send your CV to our recruitment partners; Resourcing Solutions, North Yorkshire County Council; Jessica Marshall, Resourcing Solutions Business Partner; jessica.marshall1@northyorks.gov.uk
It is important that your CV is in a Word document and includes: your full contact details (telephone, email, address), full employment history (name of employer, job titles, dates of employment and salary), full education history (qualification, grade, dates and name of place of study), explanation of any gaps in employment and the contact details of at least two referees including your current/most recent employer. You must indicate whether you provide us with the authority to contact each referee prior to interview. Your personal statement should outline your motivation for applying and how you meet the criteria for the role as detailed in the person description below.
ICG - Chief Executive Job Description
We will not accept applications from agencies.